description
POSCO, a South Korean multinational corporation and the world's fourth largest steel producer, seeks to establish an integrated steel venture in India's eastern state of Odisha. POSCO, via its wholly-owned and operated subsidiary POSCO-India Pvt. Ltd, plans to invest approximately US$12 billion in the project, making it the largest single instance of foreign direct investment in India to date. The proposed POSCO-India project consists of iron ore mines, a steel processing plant, a captive port facility, and related transportation and water infrastructure. It is planned for a production capacity of 12 million tons per year and will require 600 million tons of iron ore over 30 years. The POSCO-India project will use over 12,000 acres of land, including 4,004 acres for the steel processing plant and port in coastal Jagatsinghpur district, 2,000 acres for a company town and associated infrastructure and a further 6,177 acres for the iron ore mine in an area roughly 200 km inland known as Khandadhar Hills. The company additionally seeks an unspecified amount of land to facilitate transportation of millions of tons of raw materials and to supply the water needed for the processing of the steel. The project has made little progress in part due to significant and sustained opposition from affected communities who have used non-violent protest and democratic processes to resist their forced evictions from lands that they have cultivated for generations. The project threatens to displace over 22,000 people in the plant and port area alone, and thousands more face destruction of their livelihoods.
brief history
The government of Odisha entered into a Memorandum of Understanding (MoU) with POSCO on June 22, 2005. Since then, Odisha has taken numerous steps to help ensure the project moves forward. For example, it agreed to support designation of the proposed project area as a Special Economic Zone (SEZ), which affords POSCO significant tax breaks among other benefits. In 2005, POSCO committed to pay Odisha a royalty of Rs. 27 (approx. US$0.46) for each ton of iron ore that it extracts. In May 2013, the market value of a ton of iron ore was US$124.32.
Odisha also agreed to facilitate "all environmental approvals and forest clearances from the Central Government within the minimum possible time for the project." In June 2007, India's Ministry of Environment and Forests (MoEF) granted environmental clearances for the project plant and port despite concerns about how POSCO conducted its rapid environmental impact assessments (rapid EIAs). A local environmental activist appealed in 2011 to India's National Green Tribunal ("NGT"), a specialized body set up to handle environmental disputes and deliver "speedy environmental justice." In March 2012, the NGT suspended the environmental clearance of the MoEF, calling for "a fresh review of the Project" due to multiple concerns with the original environmental impact assessment. The NGT then reiterated the project's lack of environmental clearance in May 2013, and ordered POSCO to cease deforestation activities. Despite the NGT ruling, and the fact that the MoU for the POSCO-India project expired in 2010, efforts to acquire land for the project continue.
Since the signing of the MoU, the POSCO-India project has given rise to a formidable grassroots resistance. Formed in August 2005, the POSCO Pratirodh Sangram Samiti (Anti-POSCO People's Movement, "PPSS") is a local social movement that represents the residents of areas that stand to be directly affected by the steel plant and captive port project. The PPSS has undertaken numerous efforts to participate in decisions related to the POSCO-India project and express their concerns about the government's forcible acquisition of land. They have carried out protests and lengthy non-violent sit-ins, or dharnas, participated in village resolutions denying consent for diversion of forested land, made submissions to government committees, issued press statements and held events in New Delhi, the capital of India. They have also, together with their allies, filed an OECD complaint against the Dutch National Civil Pension Fund (ABP/APG) and the Norwegian Government Pension Fund - Global (GPFG).
what must happen
The Government of India, the Government of the Republic of Korea, the POSCO Corporation, and all of POSCO's investors must take immediate action to ensure the protection of human rights in connection with the POSCO-India project.
The Government of India should:
Suspend the POSCO-India project until and unless international human rights standards are fully complied with.
Ensure full implementation of the provisions of the Forest Rights Act and cease all land clearance and acquisition until and unless the rights claims of forest-dwelling communities are adjudicated and recognized rights-holders consent to the diversion of forest land.
Take decisive steps to ensure that police officials act in accordance with international standards on the use of force and do not engage in arbitrary arrests and detentions.
Provide effective protection for project-affected communities against acts of violence committed by private actors.
Ensure project-affected communities unencumbered access to work, adequate food, healthcare, and education services
Ensure that the living conditions in the POSCO-India Transit Camp abide by international human rights standards.
Devise a permanent resolution to the temporary housing situation of Transit Camp residents, in a manner that realizes their right to an adequate standard of living and involves their informed consent.
The Government of the Republic of Korea should:
Take all necessary steps to ensure that POSCO respects human rights throughout the course of its activities, including in its projects in India.
Establish a legislative framework that requires companies domiciled in Korea, such as POSCO, to adopt measures to prevent and mitigate adverse human rights impacts in their operations overseas.
Ensure access to effective judicial and non-judicial remedies for those affected by the POSCO-India project.
Avoid facilitating or investing in projects that fail to meet human rights standards.
POSCO should:
Prevent or mitigate adverse human rights impacts that are directly linked to its operations in India, even if it has not caused or contributed to those impacts.
Ensure compliance with Indian laws and regulations.
Ensure that the corporation's commitment to upholding international human rights standards is clearly communicated in all business relationships and fully implemented by company officials.
Provide for or cooperate in the remediation of any adverse impacts to date.
All investors in POSCO, including ABP, Berkshire Hathaway, Blackrock, Deutsche Bank, JPMorgan Chase, NBIM, and Bank of NY Mellon should:
Take reasonable and prudent measures to ensure that POSCO: respects human rights throughout its operations; complies with domestic law; and seeks to prevent or mitigate adverse human rights impacts that are linked to its operations.
Consider withdrawing their investment if POSCO does not fully comply with human rights standards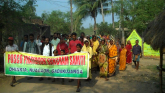 active file
last update: Oct 07, 2016
sectors
banktrack contact
working partners
Thea Gelbspan
International Network for Economic, Social and Cultural Rights (ESCR-Net)
share this dodgy deal