description
The Croatian electricity company HEP announced on September 2, 2014 that a preferred bidder consortium, consisting of the French energy company Alstom and the Japanese Marubeni Corporation, had been chosen to construct a 500 megawatt third unit at the Plomin coal power plant on the Croatian coast in Istria County. The plant would run on coal, transported by sea to the plant. The project, known as Plomin C, is being presented as a reconstruction of the Plomin 1 unit, even though it is nothing of the kind, having more than four times greater capacity than Plomin 1's 120 megawatt. The investment is estimated at EUR800 million.
June 2016: The Croatian Minister for Economy, Tomislav Panenić, has confirmed that the 500 megawatt Plomin C coal plant project has been stopped. The news was welcomed by environmental campaigners who have led a five-year campaign against the project due to its expected climate and health impacts, as well as its high cost.
brief history
The first 120 megawatt unit at Plomin was built in 1969 when coal was still being produced locally. However by 2000 when the 210 megawatt Plomin 2 was built, coal production had ceased and the project was widely opposed. Although it was finally built, the local spatial plan was changed to include a limit on the plant's future capacity, total 335 megawatt, and to stipulate that any third unit must run on gas, not coal. However in 2011 the public consultation for the Environmental Impact Assessment for Plomin C showed that only a coal variant was seriously being considered. The Croatian government has repeatedly confirmed these plans since 2012.
what must happen
Financial institutions should steer clear of financing this project.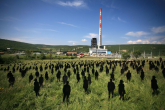 on record
last update: Oct 19, 2016
sectors
banktrack contact
Yann Louvel, Climate and Energy Campaign Coordinator, BankTrack
working partners
share this dodgy deal