description
The Phulbari coal project is a proposed open pit coal mine in northwest Bangladesh and includes the construction of at least one 500-MW power plant. At full production about eight million tons of coal will be transported by rail and barges to an offshore reloading facility located in Akram Point. An additional four million tons will be exported to India via railway, and the remaining three million tons will be used for domestic energy consumption.
what must happen
The Phulbari Coal Mine is a fundamentally flawed project that risks the impoverishment of hundreds of thousands of people in Bangladesh and will lead to more conflict in the area.
It is strongly recommended that project financiers, including public development banks and private financial institutions investing in GCM Resources immediately withdraw their support for GCM and this project. Without a thorough, publicly reviewed and debated cost benefit analysis of the project, including all short and long-term social and environmental costs, it is impossible to judge whether the Phulbari coal project is a viable option for meeting energy needs in Bangladesh.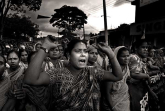 active file
last update: Oct 13, 2015
sectors
banktrack contact
working partners
member groups involved
share this dodgy deal