description
The Medupi Power Station is a coal-fired power plant currently under construction in Lephalale, South Africa. The project comprises six 800 megawatt units to provide a total installed capacity of 4,800 megawatt. The plant is being built by Eskom.
Eskom is a state-owned enterprise. Established in 1923, it was corporatized from the start, being set up to run on business principles and to deliver cheap and abundance electricity primarily to mining and industry. Eskom is planning for 13,500 megawatt based on coal-fired power plants. The two new plants, Kusile and Medupi, are already under construction and will be the third and fourth largest power plants in the world. With these two new coal power plants the proportion of coal fired baseload will increase by about 95%.
South Africa is one of the most carbon intensive economies in the world. CO2 emissions for 2004 were estimated at 440 million tonnes with Eskom accounting for more than 40%. In the year to March 2008, Eskom burnt in excess of 125 million tonnes of coal and emitted 223.6 million tonnes of carbon, according to its 2008 annual report. The Mudepi and Kusile will add another 30 million of metric tonnes and 35 million of metric tonnes per year of CO2 respectively. Medupi was meant to come online in 2013, but the first power to be produced by the plant has come from only one of its six units in February 2015. Eskom has adjusted its expectations for full synchronisation to the power grid of all six units to the year 2020.
brief history
Due to power shortages, in 2007 the South-African state-owned electricity company Eskom awarded contracts to build two identical coal-fired power plants. Known as Medupi and Kusile, each plant would have a generating gross capacity of around 4,800 megawatt. The combined output of the plants would represent about 25% of South Africa's power generation capacity. Both plants are currently under construction. The Medupi power plant is more advanced in terms of construction and finance.
The first unit of Medupi is scheduled to be commissioned in mid-2012, with the last unit scheduled for commissioning by 2015. The coal for the power plant will be sourced from Exxaro Coal's Grootegeluk coal mine which will increase production by 14.6 million tonnes a year to supply the new power plant. Medupi has attracted widespread criticism in South Africa and has already been at the center of a local and international campaign targeting the World Bank at the beginning of 2010. If the plant is built to its full specification, it will emit more CO2 than 115 countries, and contribute to the destruction of the water system in Mpumalanga where new coal mines will be opened up to serve the two new power plants.
what must happen
South Africa has abundant renewable energy resources, including on- and and offshore wind and solar power. Combined with energy efficiency measures and more decentralised energy provision, these resources offer the potential for South Africa to transition towards a low carbon power sector and economy, with appropriate financial support from developed countries.
The government has recently introduced a feed-in tariff system, designed to promote renewable energy generation. This policy is, however, at odds with the vision for power generation promoted by Eskom. It is considered a "fig leaf" in South Africa, and most research and development is still being directed to coal (e.g. futile carbon capture and storage schemes) and nuclear.
That is why the building of Medupi must stop immediately. All financial institutions involved have to end the financial services they contracted with Eskom as long they are used to build the Medupi power station. Banks should declare a moratorium on financing new coal-fired power plants as an urgent climate protection measure. Capital should instead be directed at energy efficiency and renewable energy financing opportunities.
-readmore-
The coalition of more than sixty South African groups made these points in February 2010. They argued that instead of expanding its coal and nuclear facilities, Eskom should engage in serious demand-side management, beginning by phasing out electricity to smelters that have little linkage with the South African economy and that are capital- rather than jobs-intensive.
Concrete plans should be made for a "just transition", so as to provide alternative, well-paid "green jobs", e.g. in subsidised thermal-solar geysers for every house, to those workers who are employed at the smelters. At the same time, the special purchase agreements should be disclosed to the public and opened for renegotiation.
The freed up energy should be redistributed to provide for a much larger "lifeline" supply of universal free basic electricity, with a rising block tariff to encourage conservation to improve spinning margins which will buy time for a switch into renewable energy technologies. By not expanding its coal and nuclear facilities and instead redistributing the electricity capacity it has, and by simultaneously switching to renewable sources, Eskom can survive the financial and electricity access crises, and help the world solve the climate crisis. At present it's Africa's main contributor to both crises.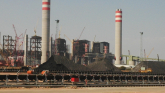 active file
last update: Oct 18, 2016
sectors
banktrack contact
Yann Louvel, Climate and energy campaign coordinator, BankTrack

working partners
Bobby Peek, Director, GroundWork (FoE South Africa)

member groups involved
share this dodgy deal