description
Located in the western Melaky region of Mahajanga pronvince are the two most developed tar sands projects of Madagascar, named Bemolanga and Tsimiroro. The size of both fields is approximately 70km2 in area.
Bemolanga is estimated to contain over 16.5 billion barrels of oil-in-place and almost 10 billion barrels recoverable. Madagascar Oil (the largest onshore oil operator in the country) estimates that at full production Bemolanga could produce as much as 180,000 barrels per day over 30 years. The depth of the field is about 15 meter below the surfaces making it ideal for open case mining.
The information available on the Tsimiroro field is varying. Madagascar Oil's highest estimate is 4.5 billion barrels of oil in place with a production capacity of 100,000 barrels per day over 20+ years. At the same time, an independent estimate made in 2009 was of only 3.5 billion barrels and 900 million recoverable. The depth of the field is between 40 and 300 metres below the surface.
The Tsimiroro field is 100% owned by Madagascar Oil, while the Bemolanga field is owned 60% by Total and 40% by Madagascar Oil.
brief history
Total paid $100 million for its 60% share in the Bemolanga field in September 2008, becoming its sole operator and "agree[ing] to a 2 year work program to drill 130 additional core wells at a cost of $200 million." It is estimated that the development of the field will cost somewhere between $5- 10 billion. On its website, Total claims that "[a]ppraisal work is being conducted to confirm that the license has sufficient resources to underpin a mining operation, starting in 2020, to produce a potential 200,000 barrels per day".
what must happen
Private banks must not participate to the funding of these projects, whatever forms it takes, be it project finance, general corporate loans or underwriting of shares or bonds on the stock markets of the companies involved.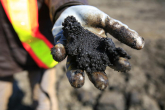 active file
last update: Oct 22, 2016
sectors
banktrack contact
Yann Louvel, Climate and energy campaign coordinator, BankTrack
member groups involved
share this dodgy deal