description
Australia is on the verge of an unprecedented coal boom. The epicentre of this expansion is the yet-to-be-developed Galilee Basin in Central Queensland. Galilee is the proposed site for a series of mega mines that will cause Australia's coal exports to more than double within a decade. The creation of mega mines in Central Queensland, the accompanying export infrastructure and increases in shipping traffic, as well as the burning of the coal they produce, place an incredible burden on Australia's Great Barrier Reef. Billions of dollars of investment has enabled a series of coal and gas projects to be built along the Great Barrier Reef coastline. While this industrialisation is already threatening the sustainability of the Reef, expansions of coal exports and new liquefied natural gas (LNG) processing plants would cause major environmental harm. -readmore-
The project consists of:
ABBOT POINT: In 2011, the 50 million tonne per year coal export terminal at Abbot Point was leased to Adani for 99 years.
HAY POINT/DALRYMPLE BAY: The Hay Point and Dalrymple Bay coal export terminals have a combined export capacity of almost 130 million tonnes of coal per year.
FITZROY DELTA (PROPOSED): Mitchell Ports is a leading proponent of a proposed 22 million tonne per year terminal, loading coal from Port Alma and transshipping it to bulk carriers near Curtis Island, north of Gladstone. The project was cancelled in May 2014, when the project developers failed to submit an Environmental Impact Statement (EIS) within the required two-year time frame.
AUSTRALIA PACIFIC LNG: The APLNG project aims to extract and convert coal seam gas sources 500 kilometres inland in Queensland into nine million tonnes per year of Liquefied Natural Gas (LNG). It is jointly owned by Origin Energy, ConocoPhillips and Sinopec. The APLNG project has started its operations in December 2015.
QCLNG: Located on Curtis Island, the QCLNG is one of four intended LNG processing plants in this part of the Great Barrier Reef World Heritage Area. The project is owned by QCG, a subsidiary of British BG Group. It converts coal seam gas sourced from inland Queensland into LNG for export. The loan attached to this project has landed the US Export Import Bank in court over an alleged breach of the US Endangered Species Act.
GLADSTONE LNG: Santos and its joint venture partners PETRONAS, Total and KOGAS aimed to have the GNLG project online in 2015, converting coal seam gas extracted from inland Queensland into LNG at a maximum rate of ten million tonnes per year. GLNG exported its first load of LNG on 16 October 2015.
ARROW LNG (PROPOSED): Arrow Energy proposes to build a fourth LNG plant on Curtis Island and won Federal Government approval for its project in December 2013. The Arrow LNG plant would seek to produce up to 18 million tonnes of LNG per year. Shell cancelled this project in January 2015.
WIGGINS ISLAND COAL EXPORT TERMINAL: The Wiggins Island Coal Export Terminal (WICET) is an 84 million tonne per year project. It commenced in April 2015. Wiggins Island will more than double the coal export capacity through Gladstone, which is already home to the RG Tanna and Barney Point terminals.
what must happen
Banks should immediately abandon harmful coal and gas export projects in the Great Barrier Reef. Furthermore, it is critical that the state and federal governments ensure major new infrastructure developments are not approved during the assessment period. Otherwise by the time the assessment is completed, massive damage to the reef will already be locked in.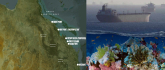 active file
last update: Oct 19, 2016
sectors
oil and gas, transport and infrastructure
banktrack contact
working partners
Muriel Moody Korol, Senior Attorney, Center for International Environmental Law, Washington, USA
member groups involved
share this dodgy deal