description
The Gateway Pacific Terminal, expected to cost USD655 million, is a proposed coal export terminal at Cherry Point, near Bellingham, Washington. If completed, the terminal would have capacity to export 54 million tons of coal annually.
The project is an export-import facility on 1,092 acres in Whatcom County, Washington. This project is organized by SSA Marine, the Northwest Company and will include shipping, stevedoring, and warehousing facilities. The Gateway is expected to act as a portal for the export of various commodities, including coal, to Asian markets. It is located at Cherry Point, 17 miles south of the Canadian border with naturally deep water to accommodate the large transnational transporting ships.
brief history
The environmental review process for the Gateway Pacific Terminal began on February 28, 2011 when SSA Marine applied for state and federal permits for the USD500 million terminal. If approved, the terminal would begin construction in early 2013 and operations in 2015.
On March 1, 2011, SSA Marine announced it had entered into an agreement with Peabody Energy to export up to 24 million metric tons of coal per year through the Gateway Pacific Terminal. The development of this terminal would allow Peabody Energy to export coal mined in Montana and Wyoming's Powder River Basin to Asian markets.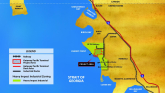 on record
last update: Oct 12, 2016
sectors
transport and infrastructure
banktrack contact
member groups involved
share this dodgy deal