description
The Enbridge Pipelines involve two pipelines from Bruderheim Alberta (near Edmonton), to a new marine terminal in Kitimat, British Columbia. The East pipeline is to import natural gas condensate while the West pipeline is to export crude oil. There is also a proposition to build a new marine terminal in Kitimat. The proposing company is Enbridge Inc., a Canadian company that operates the world's longest crude oil and liquids pipeline system.
The project is planned to consist of two parallel pipelines between an inland terminal at Bruderheim, Alberta and a marine terminal near Kitimat, British Columbia in length of 1,177 kilometers both. About 520 kilometers of pipeline will run in Alberta and 657 kilometers in British Columbia. The crude oil pipeline would have a diameter of 36 inches and its capacity would be 525 thousand barrels per day. The condensate pipeline would have diameter of 20 inches with capacity of 193,000 barrels of condensate per day. Enbridge expected these pipelines to be completed by 2015. It is expected to cost at least CAD4.5 billion.
brief history
The project was proposed in mid-2000s and has been several times postponed. To ensure the full utlization of the pipeline, in 2005 Enbridge signed a cooperation agreement with PetroChina. PetroChina agreed to buy around 200 thousand barrels per day transported through the pipeline. However, in 2007 PetroChina withdrew from the projects because of delays to get the project started.
June 2016, Enbridge and its partners behind the Northern Gateway pipeline are asking for three more years to build support for the controversial project, but some First Nations say their opposition will never waver. The company's Northern Gateway subsidiary and 31 aboriginal equity partners said they've asked the National Energy Board for an extension to the 2016 construction deadline to secure legal and regulatory certainty as well as continue consultations (source The Huffington Post). |The project's cost are expected to rise to USD7.9 billion.
what must happen
Private banks must not participate in funding of this project, whatever forms it takes, be it project finance, general corporate loans or underwriting of shares or bonds.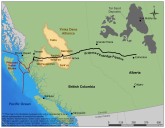 active file
last update: Oct 12, 2016
sectors
banktrack contact
Yann Louvel, Climate and energy campaign coordinator, BankTrack
share this dodgy deal