description
The planned Czeczott coal power plant in Poland is a 900-1000MW hard-coal-fired power project located in the Wola village in Silesia (Slaskie Voivodship), on the area of a former coal mine. The project, worth 1.5 billion euro ($1.94 billion), is planned by Kompania Weglowa S.A., the largest coal mining company in Poland and the EU.
The power plant is due to be completed by 2019, although if more than 51% of the project's equity comes to be owned by a partner within the European Union, the construction could benefit from certain exemptions and be accelerated. However, Kompania Weglowa currently expects an Asian investor to become a majority partner in the project.
The power plant will burn between 2.5 and 3.5 tonnes of coal per year and produce 5-7 TWh of electricity annually. As part of the preparations for the investment, Kompania Weglowa has started to act to gain the necessary land for building the plant, as analyses show that the areas currently owned by Kompania Weglowa are not adequate.
At the end of June 2013, Kompania Weglowa announced that three companies are interested in becoming a partner in the investment: Mitsui & Co., Ltd; Samsung C & T Corporation and Sepco Elektric Power Construction Corporation. A specially appointed body will choose and negotiate the best offer. Once the candidate for a partner will be chosen it will be exclusively entitled to conduct negotiations.
Current status
The project is awaiting the first official permissions that will allow it to continue with investment. As the company did not fulfill some of the formal conditions, it still has to complement its documentation.
brief history
Wola is a village set in Silesia Province (Slaskie Voivodship). This is the most industrialized region of Poland, were most of the hard-coal mines and the majority of hard-coal power plants are located.
The proposed power plant is to be located on the site of a hard coal mine, which operated until 2000. A new power plant was supposed to be built by RWE and Kompania Weglowa, and representatives of both companies signed a joint-venture agreement in the presence of the Minister of Economy of that time, Waldemar Pawlak. However in 2010 RWE announced its resignation from the project.
RWE's decision can be seen as part of the gradual withdrawal of the EU from involvement in new coal-fired power plants. According to data from European Commission, of new power generating capaciity installed within the EU in 2009, about 37% (10,8 GW) was wind energy, 24% gas, 21% photovoltaic systems and only 8.7% (2400 MW) came from coal.
what must happen
No administrative procedure has started yet.
Kompania Weglowa S.A. is in a bad financial condition. Potential investors should be aware that Czeczott investment is linked with Opole power plant investment. Currently the only thing that saves financial situation of Kompania Weglowa S.A is a contract with Opole power plant concerning future coal supply for units that are planned to be built.
In view of fatal financial condition of Kompania Weglowa S.A, investing in Czeczott power plant is very risky.
Private banks should then not provide any financial services linked to this project in any way.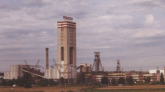 active file
last update: Oct 07, 2016
sectors
working partners
share this dodgy deal