Aracruz pulp mills and plantations
Brazil
Sectors:
forestry - pulp and paper
---
On record
This profile is no longer actively maintained, with the information now possibly out of date
Send
feedback
on this profile
---

Created before Nov 2016
Last update:

2015-11-01 14:53:10
BankTrack
---
Barbara Happe, Urgewald, Germany
---
Project website
---
Share this page:
---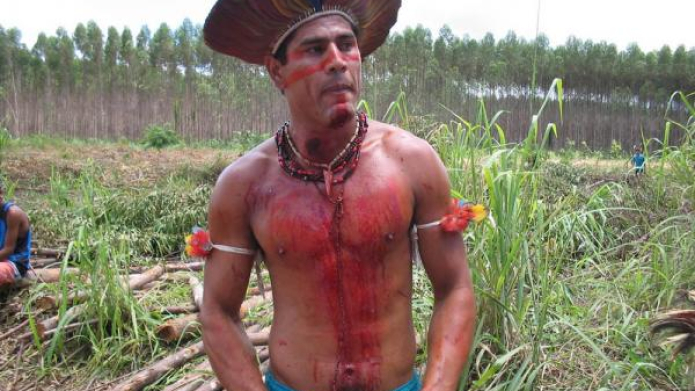 Description
Aracruz is the world's largest producer of bleached eucalyptus pulp, with a share of 27% of global production, and it is also Latin America's biggest pulp exporter. The company has three pulp-making plants and produces a total of 3 million tonnes of pulp a year. In total, Aracruz has an area of almost 280,000 hectares of industrial tree plantations plus about 90,000 hectares grown under contract with farmers.
Aracruz has been particularly criticized for poor relations with indigenous peoples, rural communities formed by the descendents of runaway slaves (Quilombolas) and other local communities. The company is also responsible for forest destruction and planting its monocultures in protected areas.
What must happen
International banks should refrain from providing money for the construction of another large pulp mill and/or plantations by Aracruz, whether this is the company's expansion in Rio Grande do Sul or its Veracel joint venture in Bahia.
Location
Issues
Social impact
Violation of land rights
The company has a controversial track record due to ongoing land rights conflicts with indigenous communities, "quilombola" communities and local farmers. Aracruz was involved in violent attacks against indigenous peoples and responsible for an aggressive anti-indigenous peoples campaign.
Nevertheless in August 2007, after 30 years of struggle, the Tupinikim and Guarani won the struggle for their land against Aracruz, when Brazil's Minister of Justice, Tarso Genro, signed two ministerial decrees. With these, he acknowledges 18,070 hectares of land in Espírito Santo as belonging to the Tupinikim and Guarani Indigenous Peoples. The other land rights conflicts are still unresolved.
Suspension of agrarian reform
Aracruz's expansion plans ignore political pressure within Brazil for genuine land reform and food crops production. In certain regions Aracruz's demand for land led to the complete suspension of the land rights reform process.
Environment
Forest destruction
Aracruz is responsible for destroying Atlantic forest to make way for its plantations (in the 1970s). The company has also been fined recently by IBAMA, Brazil's environmental protection agency, for planting in protected areas.
In recent years, Aracruz has expanded its operations outside Espírito Santo province. In 2000, Aracruz joined a joint venture with Stora Enso to establish plantations and build a pulp mill in the state of Bahia. The Veracel pulp mill, the world's largest single line pulp mill at 900,000 tonnes a year started operations in June 2005. Veracel cleared forest to make way for its plantations and more than 800 people had to leave their homes. Many more have since left the area because there is little employment in either the plantations or in the pulp mill.
No sustainable plantation management
In 1999, Aracruz applied for a certificate from the Forest Stewardship Council (FSC) which could be seen as a first indication of whether Aracruz's plantations are "well managed". But the certificate has never been awarded - a clear indication that Aracruz's plantation management fails to guarantee environmentally and socially responsible forestry.
In 2003, Aracruz bought Klabin's pulp operations in Rio Grande do Sul, which included 40,000 hectares of FSC-certified plantations. Three years later Aracruz decided to voluntarily withdraw the certificate, as a result of the increasing controversy surrounding the company's ongoing land rights conflicts.
Other environmental problems
The fast-growing eucalyptus plantations on Aracruz's land have already caused serious environmental impacts on water, soil and biodiversity. Drinking water has been polluted and streams and soil have dried out as a result of the large-scale plantations. Through the use of enormous quantities of chemical fertilizers, pesticides and agro toxics for growing the non-native eucalyptus, Aracruz is responsible for polluting the soil, groundwater and streams, and affecting the health of local communities that depend on the local water sources for their drinking waters. Rivers and streams have dried up as a result of Aracruz's eucalyptus plantations. The company has dammed rivers and diverted water from the Doce River to its mills, further impacting water flows in the region. Fishing has largely disappeared from many of the rivers in the region. Water that remains is polluted by herbicides and pesticides sprayed on the plantations.
Other issues
Genetic engeneering
Aracruz is currently carrying out research into genetically engineered trees. The company has a GMO policy which states that "Aracruz Celulose believes that Genetic Engineering of forest species can bring benefits to society through sustainable development."
Updates
Proposed new pulp mill
Aracruz has expanded its operations by 1.3 million tonnes since 2000 and plans further expanding. The company recently submitted an Environmental Impact Assessment to the authorities in Rio Grande do Sul State in Southern Brazil for a new 1.3 million tonnes a year pulp mill in Guaíba.

The proposed new pulp mill will increase the already existing social and environmental problems. Large-scale monoculture plantations have serious consequences and add to the unsolved problems concerning the violation of land rights, the land concentration process, the displacement of small scale agricultural use, unsustainable development and environmental pollution.

Veracel, the Aracruz-Stora Enso joint venture, is also planning to double the capacity of its 900,000 tonnes a year pulp mill in Bahia. This will require a larger area of industrial tree plantations. The problem of land rights will be exacerbated at a time where land right conflicts with the "quilombola" communities in the states of Espírito Santo and Bahia are still not resolved and Aracruz so far shows no sign of being prepared to recognize their land rights.