description
Aracruz is the world's largest producer of bleached eucalyptus pulp, with a share
of 27% of global production, and it is also Latin America's biggest pulp exporter. The company has three pulp-making plants and produces a total of 3 million tonnes of pulp a year. In total, Aracruz has an area of almost 280,000 hectares of industrial tree plantations plus about 90,000 hectares grown under contract with farmers.

Aracruz has been particularly criticized for poor relations with indigenous peoples, rural communities formed by the descendents of runaway slaves (Quilombolas) and other local communities. The company is also responsible for forest destruction and planting its monocultures in protected areas.
what must happen
International banks should refrain from providing money for the construction of another large pulp mill and/or plantations by Aracruz, whether this is the company's expansion in Rio Grande do Sul or its Veracel joint venture in Bahia.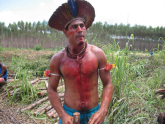 on record
last update: Oct 18, 2016
sectors
forestry - pulp and paper
banktrack contact
member groups involved
share this dodgy deal