about Sumitomo Mitsui Banking Corporation
Sumitomo Mitsui Banking Corporation (SMBC) was established in April 2001 through the merger of two leading banks: the Sakura Bank Limited, and the Sumitomo Bank Limited. Sumitomo Bank was a major Japanese bank, founded in 1895; Sakura Bank was a descendant of Mitsui Bank, another major Japanese bank founded in 1876, but with operations dating back to 1683. SMBC is the second largest bank of Japan and also holds branches in the United States, Canada and Europe.
Sumitomo Mitsui Financial Group (SMFG) was established in December 2002 through a stock transfer as a bank holding company. SMBC became a wholly owned subsidiary of SMFG.
On 30 June 2016 the consolidated total assets of Sumitomo Mitsui Financial Group amounted to JPY181.37 trillion.
ownership
listed on Tokyo Stock Exchange
Publicly listed. SMFG, Sumitomo Mitsui Financial Group is the holding company of which SMBC is a wholly owned subsidiary. SMFG stock is traded on the Tokyo Stock Exchange.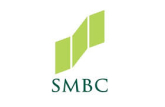 headquarters
1-1-2, Marunouchi, Chiyoda-ku
Tokyo
Japan
tracked by