about RBS
RBS was founded in 1727 and is one of the major UK banks. RBS has 40 million customers using the financial services of over 30 brands, including NatWest, Direct Line, Churchill, Coutts, Ulster Bank and Citizens. After a massive bailout in 2008, RBS is now a UK government owned institution.
ownership
listed on London Stock Exchange
RBS has been effectively nationalised by the UK government, who has a 85 percent stake in the bank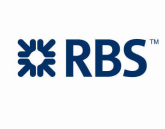 headquarters
36 St Andrew Sq.
EH2 2YB Edinburgh
United Kingdom