about NAB
The National Australia Bank Group is one of the four biggest banks of Australia. It was founded in 1982 as the National Commercial Banking Corporation of Australia Limited. The Group is structured around regional banking and wealth management operations, active in international capital markets and institutional banking business. Its subsidiaries included:
At the end of 2015 NAB controlled assets worth AUD945 billion. In its 2015 annual financial report NAB announced its strategy to exit the UK banking business and start the process of demerging Clydesdale and Yorkshire bank. The bank's focus will be on Australia and New Zealand.
ownership
listed on Australian Securities Exchange
Publicly listed in Australia and overseas.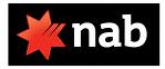 headquarters
800 Bourke St W, Docklands
Victoria 3008 Melbourne
Australia