about Itaú-Unibanco
Banco Itau took over Unibanco on November 3 2008, to form Itaú Unibanco Holding S.A. Itaú Unibanco is a publicly-held company which, together with its subsidiaries and affiliated companies, operates in Brazil and abroad. The bank is present in 18 countries other than Brazil. The bank has its headquarters in São Paulo, Brazil, and its activities and products include: asset management, investment banking, insurance, private equity, and retail banking.
On December 31 2015 it controlled assets worth BRL 1.276 trillion (approximately USD 398.8 billion).
ownership
listed on BM&F Bovespa, NYSE Euronext
Publicly listed. Itau-Unibanco's corporate structure can be seen here.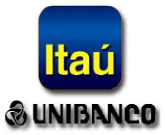 headquarters
Praça Alfredo Egydio de Souza Aranha, 100 Torre Olavo Setubal, Parque Jabaquara
04344-902 São Paulo
Brazil